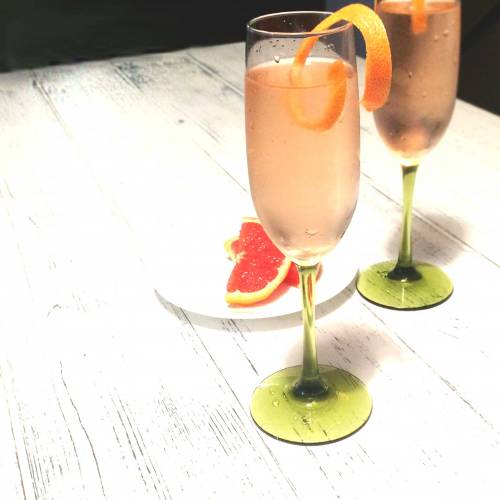 We think the best summer cocktails are full of crisp flavours and offer refreshment in a delicate way. A great way to cut back on added sugars and sweetness is to use tea for your cocktails instead of juices. This summery cocktail pairs our refreshing Pink Grapefruit white tea blend with a touch of ginger liqueur and sparkling wine.
Here's what we love about Pink Grapefruit, besides the fabulous flavour.
Certified organic ingredients
Great source of antioxidants
Hibiscus, orange peel and rosehips have many great properties, one of them being a good source of vitamin C!
Hibiscus is a cooling ingredient, just a touch adds a refreshing feeling.
Sugar-free, gluten-free and vegan
So here is what you need!
Ingredients:
1 tsp Pink Grapefruit tea
1 ounce hot water (80-85ºC)
½ ounce Domaine de Canton ginger liqueur
2-3 ounces Prosecco
Grapefruit wedge to garnish
Directions:
Infuse the tea in hot water for 1-2 minutes. Remove the leaves from the hot water. Allow to cool.
Note, you can easily multuply this for a crowd. Use 1tsp Pink Grapefruit and 1oz hot water per drink you intend to make and infuse in one large container.
Pour the infusion and Domaine de Canton in a champagne flute. Gently pour in the Prosecco until the glass is nearly full. Garnish with a grapefruit wedge.