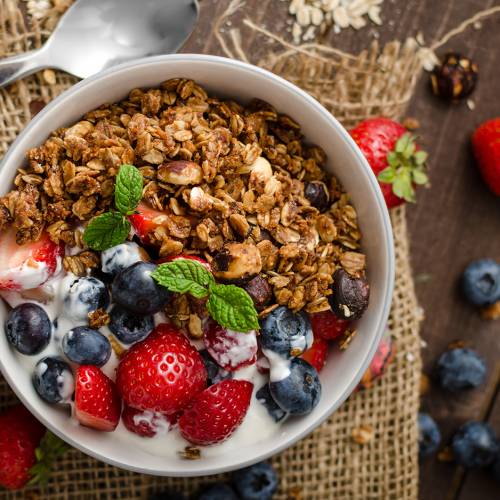 Have you made your own granola before? If not, you're missing out! It's so easy to make, easy to customize, and has none of the questionable ingredients that some store bought granola contains. Plus, it's a great way to save money.
Our recipe for granola is full of protein, vitamins and fiber. It's a great breakfast or snack option to keep you feeling full for longer. Our favourite way to enjoy this granola is with some fresh fruit and yogurt, or as a topping in a smoothie bowl.
The recipe below is for a simple granola, but here are a few suggestions to add more flavour!
Banana nut - Add 1 mashed banana with the liquids and increase the amount of nuts!
Add 1 tbsp cacao powder before cooking, then add some vegan chocolate chips or cacao nibs (or both) once the granola has cooled down for a double (or triple) chocolate granola.
Add gingerbread spices like powdered ginger, clove, cinnamon.
Superfruits – Add acai powder to the liquids before cooking, then add dried goji berries after cooking.
Ingredients:
Directions:
Preheat your oven to 300°F. Tip: cooking at a lower temperature for a longer duration will result in better granola!
Melt coconut oil, place in a blender with maple syrup and dates with ½ tsp of the date soaking water. Blend until you have a smooth consistency.
Mix wet ingredients with dry ingredients, except the dried fruits (add these once the granola is finished cooking). Make sure all of the ingredients are well mixed.
Place on a parchment lined baking sheet and press together to form one large, rectangle, about ½ in height. This will help stick granola together for chunky granola.
Bake for 30 minutes, then flip over. Your granola will break apart at this point. Tip: any parts of the granola that were at the outside of the rectangle should be flipped towards the center to avoid those pieces from getting too golden.
Continue to cook for 20-30 minutes, or until all pieces are completely dry. Note that any dampness in the granola will result in the granola going bad pretty quickly. Properly dry granola can be stored in an airtight container in your cupboard for 1-2 weeks.
Granola for your business
Granola is a healthy and delicous add-on for your customers, whether you sell packaged granola to take home, or offer it as an extra item for breakfasts and snacks. Shanti Tea carries all of the certified organic dry ingredients you need to make this recipe!