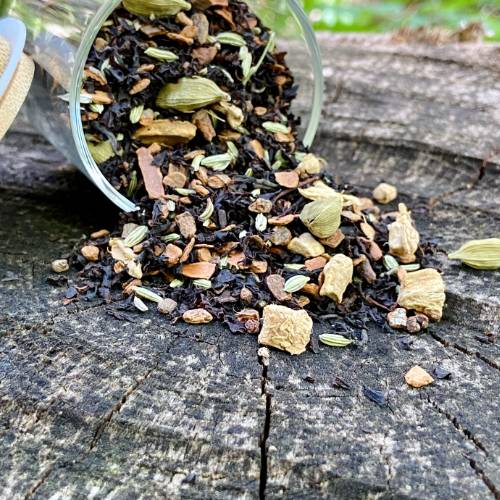 Warming, sweet, spicy and delightfully aromatic – chai is a mood.
As we know it in North America, chai refers to an Indian black tea with a mix of traditional spices to give it that vibrant and rich flavour. In India, "chai" means tea and "masala" refers to a blend of spices, so "masala chai" = spiced tea.
While there are common ingredients that you may find in most chai blends, such as cardamom, ginger, cinnamon or cloves, most families in India have crafted their own unique blend. This means there isn't one official chai recipe, there are countless blends, each with their own slight variations to create that perfect, nuanced taste and that warm, comforting feeling, right from the very first sip.
With over a dozen blends in our collection, it's fair to say we're chai enthusiasts at Shanti! Whether you're new to chai or you're already an aficionado, we've got a chai for you. Here's a quick guide to help you navigate our collection.
The simple blend
Om Chai - A blend of black tea, cardamom and cloves, this tea is wonderfully fragrant and lightly spiced. It is our simplest chai blend and a great one to try if you're new to chai (or if you don't like ginger or cinnamon).
Our signature chai
Shanti Chai - Our signature blend has ALL the spices! Shanti Chai is a mix of black tea and cardamom, cinnamon, ginger, fennel, cloves and black pepper. It is bold, flavourful, spicy and sweet. If you love a very fragrant and rich chai, this is the one for you!
Chai, with a little twist
If you like chai, but you're looking for something a little different, try Kashmiri Chai. It's a blend of black tea, cardamom and cinnamon with almond flakes, for a little extra sweetness. You might also enjoy Coconut Chai which has a black tea base and a creamy sweetness from the coconut that complements and slightly softens the other chai spices (cardamom, ginger, cinnamon, cloves, orange peel and black pepper).
Adventurous chai blends
Sita Chai is a delicious, rich, chocolate-flavoured chai. A blend of black tea, cinnamon, cacao nibs, cardamom, cloves, anise and rooibos, this chai is the perfect combination of sweetness and spice. The rooibos mellows out the strong black tea in this blend.
For a fun floral take, try our Kama Sutra Chai. Warm, mysterious and inviting, this blend includes black tea, cinnamon, ginger, cardamom, cloves and black pepper with the addition of rose petals, lavender and chrysanthemum petals.
White tea chai
White tea chai is not as common, but our Sweet Cinnamon Chai boasts an exquisite flavour profile. The natural softness of white tea is combined with cinnamon, lemongrass, pink peppercorns, cardamom, orange peel, anise and honeybush for a deliciously sweet and spicy infusion. A must-try for fans of white tea or those who like the spice aspect of chai (and the caffeine) but don't like black tea.
Sans caffeine
Traditionally, chai is made with black tea, which contains caffeine, but we do have several caffeine-free options, (including a few herbal variations) so you can enjoy your chai day or night.
Opt for Decaf Chai if you prefer a traditional black tea chai, without the caffeine. This flavourful and spicy blend contains decaffeinated black tea, cardamom, black pepper, ginger and anise.
Rooibos Chai (cardamom, cloves and cinnamon) and Red Maple Spice (orange peel, cardamom, fennel and maple flavours) are two rooibos-based herbal variations of chai that have a lovely earthy sweetness to them.
Apple Chai is a unique blend of honeybush, apples, cloves, ginger, cinnamon, cardamom, fennel and orange. A nod to mulled apple cider, it is deliciously sweet and aromatic.
Lastly, if you love the peppery taste of tulsi, you will most definitely enjoy Tulsi India Chai with cinnamon, rooibos, ginger, cardamom, fennel and pink peppercorn. This blend is fragrant, lightly spiced and calming.
Have fun finding your chai! If you can't decide, start with our Masala Chai Collection sampler. Feeling extra? Learn how to make your own chai.