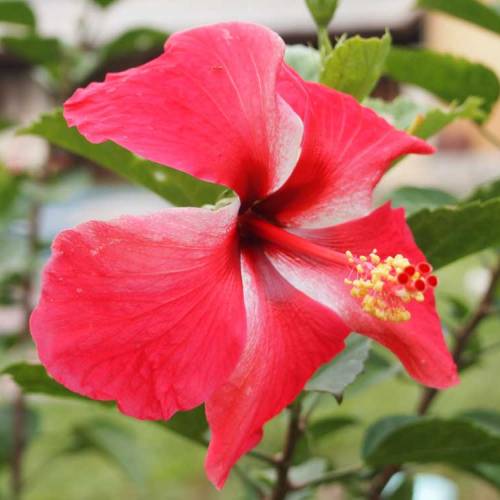 The bright, vibrant hibiscus blossom is recognized in many parts of the world as much for its gorgeous petal displays and cultural significance as for the splendidly sweet and tangy taste of the herbal tea it produces.
In Hawaii, for instance, a woman who wears the hibiscus flower behind her left ear is indicating that she would like to take a lover, while one who wears it behind her right has already been claimed. One who wears it behind both, however, may present a bit of a quandary to the potential man, or else a laid-back dream come true: she already has one lover, but wouldn't mind another.
Though it is native to the Aloha state, many islands in the South Pacific and countries in Asia also have the pleasure of calling it their own, and both Malaysia and the Conch Republic boast it as national symbols. Ironically, though the iconic bloom is sometimes called the Queen of Tropical Flowers for its associations with peace and happiness, one of the most poignant legends surrounding the flower is very sad.
In China, where this beautiful blossom has haunted gardens for thousands of years, adorned ancient pottery, and sparkled through classical Song and Ming poetry, myth tells of a stunningly lovely woman who enchanted her townspeople with the light of her laughter and the sweetness of her song. Many who saw her were taken by her beauty, but she remained true to the husband to whom, though blind, she was very loyal.
Day in and day out she fought off the suitors, and no matter how ardent the proposals became, she would not budge. Then one day came an offer she could not refuse, though she didn't know it at the time. A wealthy and strong-minded lord came riding by and saw her, singing as she busied herself with some humdrum task, and he was immediately taken with the power of her sweet nature and the beauty of her form and sound.
"I love you," he told her, "more than life itself or the sun in the sky. Marry me, and tell me you will make me the happiest man alive by staying near me all of my days." Despite the obvious sincerity in the lord's eyes, and the earnest way in which he voiced his proposal, the woman characteristically refused. To her surprise, the young noble's response was not to leave, but instead to kidnap her.
Sadly, he discovered what so many others already had: her heart could not be won away from her husband. Despite pleading and giving her the finest of everything, the lord found his attempts unsuccessful and finally, in a fit of rage, had her killed. But his cruelty did not go unnoticed: the village people came and returned her body to the ground outside the home she used to share with her heartsick husband. Several months later, he received a sweet surprise: the beautiful flowers of the hibiscus growing all around his dead wife's grave.
To this day, hibiscus remains as fresh, sweet, and lovely as that young woman – as does the tea that comes from it. This organic tea can be enjoyed hot or cold, and is best when brewed fresh from the vibrant blends of our Canadian tea company.
Shanti Tea Secret: In what part of the world does the hibiscus blossom have significance when placed behind the ear? Use the answer as a coupon code at checkout to get 25% off your hibiscus purchase. Hurry, this coupon can only be used once. It expires on November 10th, 2012.