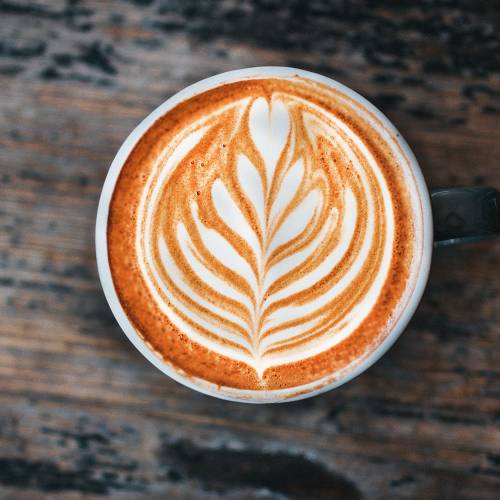 A rooibos latte, or red latte, is a delicious tea latte recipe that uses naturally caffeine-free rooibos instead of coffee. The result is a smooth, rich and complex latte that can be enjoyed any time of day. The natural sweetness of rooibos makes it pleasant without any added sweeteners.
Shanti Tea offers a cut of Espresso Ground Rooibos, or Roospresso, that can be made using your espresso machine! You can enjoy a shot of rooibos espresso, or use it in a latte, or however else you enjoy espresso (affogato perhaps?)
Why? Sometimes you crave a latte, but not looking for the jittery rush of caffeine. Or perhaps you don't drink coffee, but would like an earthy, complex flavour to your tea latte. Finally, you may love espresso, and want something kid friendly so they can feel grown up and enjoy a latte or sip on Roospresso while you enjoy your espresso.
Rooibos is a wonderful tisane from South Africa, where many people consume it similarly to how we prepare black tea (with milk, lemon, honey or similar accompaniments). It comes from a shrub that is native to South Africa. Red rooibos (the kind we use for Roospresso) is processed like black tea, while green rooibos is processed less, like a green tea.
Red rooibos has a nutty, woodsy, earthy flavour with a subtle sweetness and hint of citrus. Green rooibos is bright and clean, with a subtle grassy flavour.
Rooibos has an abundance of healthy properties, another reason that you may want to try Roospresso!
Antioxidant rich, which can lead to benefits such as:

Reduce the risk of illness
Potentially lowers the risk of heart disease, liver disease and cancer
Clear skin
Lowers blood pressure

Anti-inflammatory
Anti-viral

Red Latte
Ingredients
Directions
Prepare espresso ground rooibos as you would with espresso. This will vary depending on the equipment you usually use for espresso.
Pour your shot of Roospresso into a mug, add steamed milk.
You can add a bit of vanilla or cinnamon for sweetness. Roospresso is naturally sweet and earthy, so try it without any additions first!