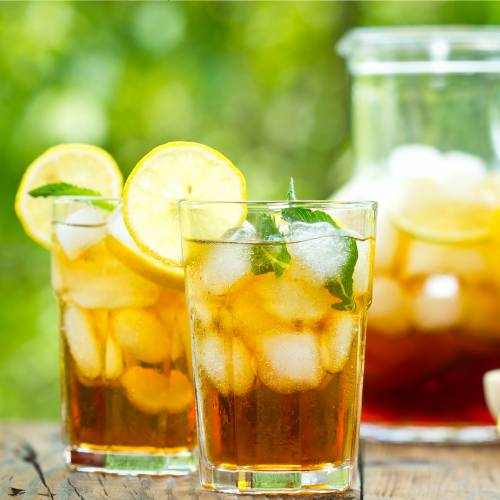 Summer is around the corner, and that means BBQ's, patios, and warm weather. It also means iced tea!
We really have fun with iced tea at Shanti Tea. Combining different teas, adding fruits, potentially adding booze… It's easy to make great iced tea, and it's generally healthier to drink iced tea than any other cold beverage (besides water). Many of our teas are sweet without sugars, so you can enjoy a sweet iced tea if you wish, with zero calories or sugar.
All of these recipes call for sparkling water, you can choose to omit that and just use cold, filtered water instead. Sparkling water is just there for the bubbles.
These are our favourite 5 recipes using healthy, organic ingredients from Shanti Tea.

Banana Colada
Let's start with an easy one. Banana Colada is delicious as is, it's herbal (caffeine-free) and has all the refreshing flavours of the tropics. We made this as a one-time seasonal blend last year, but our customers loved it SO much we brought it back again for another year.
Ingredients:
¼ cup Banana Colada
1 cup boiling water
2 cups sparkling water
1 cup coconut water
1-2 cups ice
Fresh chopped pineapple
Directions:
Infuse tea in boiling water for 5 minutes. Remove the tea leaves. Allow the infusion to cool.
In a 1.5L pitcher, pour the Banana Colada infusion over ice, add coconut water and sparkling water. Add fresh pineapple to the pitcher or use as garnish for glasses. Serve cold.
Health:
Why is this a healthy iced tea? Banana Colada is naturally sweet, no sugar needed. Rooibos is the base used in Banana Colada and it is high in antioxidants, is anti-inflammatory, and helps aid digestion. Coconut water is full of electrolytes and is very hydrating. It's the perfect thirst quencher for a hot day, and a great iced tea to keep in the fridge for children to enjoy instead of juice.
Teatail:
Iced tea is easy to convert into a cocktail. Just add 1 oz of rum (any variety) for a light and lean piña colada.

Strawberry Mint
Strawberry White is one of our best selling products. We've had strawberry teas elsewhere that taste like candy, and you know by now that's not what we're about. Using high-quality organic white tea, rosehips, hibiscus and organic natural essences (no weird chemicals or artificial stuff here) made from real fruit, this is a healthy and delicious tea on it's own!
Ingredients:
¼ cup Strawberry White tea
2 tsp Peppermint or ¼ cup fresh mint leaves
1 cup hot water (75-80°C)
3 cups sparkling water
2 cups ice
1 thinly sliced lime
Directions:
Infuse Strawberry White tea and Peppermint (or fresh mint) in hot water for 2 minutes. Remove leaves and allow the infusion to cool.
In a 1.2L pitcher, pour the infusion over ice, add sparkling water and sliced lime.
Health:
White tea is full of antioxidants. Hibiscus is rich in vitamin C, minerals, antioxidants and is used to help reduce blood pressure, increase metabolism treats high cholesterol and is used for an anti-anxiety aid. It is very cooling. Rosehips are great for the immune system, also high in vitamin C and antioxidants and it is anti-inflammatory. Peppermint is great for the digestive system, aiding in digestion, calming upset stomach, cools your body internally, boosts immunity, removes bad breath and helps increase metabolism. So basically, drink this iced tea if you want to feel cool and refreshed, boost your immune system, aid in weight loss and improve your cardiovascular health (as well as reducing risk of inflammatory related diseases, cancer, anxiety, and more).
Teatail:
This would pair really well with gin or vodka for a healthier, refreshing tea cocktail.

Chamomile Sage
Sage helps to elevate the flavours of chamomile, which is often seen as an evening tea or even a soothing tea when feeling sick. Our blend, Kamila's Chamomile Dream, has chamomile with a touch of cinnamon and lavender. The sweetness of these ingredients is very well balanced with the addition of sage.
Ingredients:
¼ cup Kamila's Chamomile Dream
2 tsp lemongrass
1 sprig of fresh sage (or 1 tsp dried sage)
1 cup boiling water
3 cups sparkling water
2 cups ice
Directions:
Infuse Kamila's Chamomile Dream and lemongrass in boiling water for 3-4 minutes. Remove tea and allow the infusion to cool.
If using dried sage, infuse in the infusion for 2 minutes.
In a 1.5 L pitcher, pour the infusion over ice and add sparkling water. If using fresh sage, add it to the pitcher.
Health:
Chamomile is known for its ability to calm us down, relieve stress and anxiety. It's also anti-inflammatory and immune boosting. Lemongrass is good for digestion, anti-microbial, anti-bacterial and anti-inflammatory, boosts metabolism, and is full of antioxidants. Lavender is good for reliving stress, aids digestion, and is anti-inflammatory. Sage is an appetite stimulant, but is also known to reduce levels of bad cholesterol and increase metabolism. Sage boosts circulation, boosts detoxification, aids digestion, is full of antioxidants and is cooling. This combination results in a brew which is great for digestion, is cooling, helps boost metabolism and calms you down. Please note that some people with allergies to ragweed are also allergic to chamomile.
Teatail:
Add whisky or light beer to make a delicious tea infused cocktail.

Elderberry Fennel
Fennel is so delicious when added to fruit flavours, with a distinct flavour and natural sweetness.
Ingredients:
3 tbsp Elderberries
2 tbsp Fennel Seed
1 cup boiling water
3 cups sparkling water
2 cups ice
1 handful fresh mint
1 cup fresh or frozen berries
Directions:
Infuse fennel and elderberries in hot water for 5 minutes. Remove the tea and allow the infusion to cool.
In a 1.5 L pitcher, pour infusion over ice. Add fresh mint, berries and sparkling water.
Health:
Elderberries are rich in antioxidants, vitamin A and vitamin C. They are good for the immune system, indigestion, respiratory issues, and are anti-inflammatory. Fennel is amazing for digestion, helps to burn fat, boost immunity, treats heartburn, regulates blood sugar and blood pressure, and aids in detoxification. This combination is great for immunity, is cooling, and great for digestion.
Teatail:
Try adding gin to this brew for a refreshing, complex and flavourful cocktail.

Jasmine Citrus Green Tea
Midnight Magic is a combination of jasmine green tea, rose petals, and a light citrus flavour. It's floral, grassy, citrusy and clean. Just take caution not to over-infuse or burn the green tea leaves, that will result in a bitter brew.
Ingredients:
¼ cup Midnight Magic
1 cup hot water (70-75°C)
3 cups sparkling water
2 cups ice
1 medium orange, thinly sliced
Directions:
Infuse Midnight Magic in hot water for 2 minutes. Remove tea leaves and allow infusion to cool.
In a 1.5 L pitcher, pour infusion over ice, add sliced orange and sparkling water.
Health:
Green tea has a number of health benefits, including high in antioxidants, protects heart health, improves brain function, increases metabolism, linked to lowering risk of cancer, improves dental health, and a whole lot more. Rose petals also offer great health benefits when infused as tea. Rose is mood boosting, high in vitamin C, great for the immune system, soothes respiratory issues, anti-bactieral, good for digestion, hydrates skin, and relieves stress. Oranges are high in vitamin C, the peel when infused in tea is known to lower cholesterol, lower blood pressure, boosts immunity, relives indigestion and increases metabolism.
Teatail:
This would be a great infusion to pair with gin or vodka, or a light white wine spritzer.
Do you have a business?
Email info@shantitea.ca to learn more tips for making iced tea for your business, and how to infuse ahead to help speed up service.