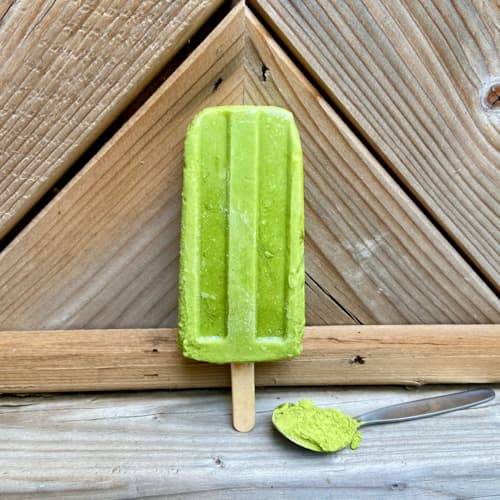 Looking to super-charge your morning smoothie for the last days of summer, and hopefully a warm fall? Add matcha and turn it into an ice pop!
Matcha is kind of like a super-powered green tea. Since you are ingesting the whole leaf instead of simply the brewed infusion, it packs ten times the antioxidants and nutritional value of your standard green tea. Matcha is not only rich in antioxidants, but also chlorophyll and fibre. It's even been known to have natural mood enhancing effects.
To reap the benefits of this nutrient-packed green tea powder, you can drink it straight, you can add steamed milk for a delicious tea latte, or you can add matcha to other things, like our smoothie ice pops! This healthy pop gets its velvety texture from avocado and its rich flavour from our high-quality Japanese matcha:
Ingredients
1 tbsp Daily Matcha
1 can of coconut milk
1 ripe avocado
x 4-5 frozen spinach nuggets (about ~1 cup)
½ c of unsweetened Greek yogurt (optional)
½ scoop of vanilla protein powder (This is optional and depends on how much sweetness you desire. You can add in more or less, or substitute honey, maple syrup or fruit such as pineapple.)
Makes approximately 8 pops
Combine all ingredients in a blender and blend well until you have a nice, smooth consistency. Taste your smoothie and adjust for sweetness. Re-blend if necessary. Pour your smoothie mixture into ice pop molds and pop into the freezer. Let the pops freezer for several hours and then enjoy!
Bonus: If you are enjoying these pops for breakfast, you now have a week's worth pre-made so you can simply grab and go.
What are some of your favourite ways to use matcha?