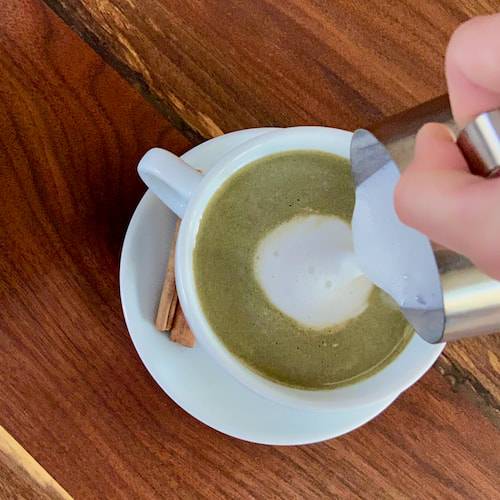 Matcha is wonderfully smooth, creamy, slightly sweet and grassy. It's delicious in its pure form (with water) and it makes a stellar, even creamier tea latte.
If you enjoy matcha lattes, try these fun twists and discover how matcha's sweet, grassy notes are complemented by different flavours.
Spiced Matcha Latte
Matcha meets cinnamon in this spicy take on the green tea latte. Both ingredients share earthy notes but the warming cinnamon softens the grassiness of the matcha. This tea latte is antioxidant rich and energizing.
Try making a Spiced Matcha Latte with our Cinnamon Matcha blend.
Creamy Chocolate Matcha Latte
More of a chocolate lover? You're in luck! The earthiness of matcha and cacao are matched in this blend resulting in a tea latte that is very creamy with notes of roasted nuts (and lots of antioxidants, just like its spiced counterpart!).
Try making a Creamy Chocolate Latte with our Cacao Matcha blend.
More on matcha
Matcha tea is kind of like a super-powered green tea. Since you're ingesting the whole leaf instead of just the brewed beverage, you get up to ten times the antioxidant effect and nutritional value of a standard green tea. Matcha is rich in antioxidants, as well as chlorophyll and fibre, and has been found to have natural mood enhancing effects. It really is the epitome of healthy teas!