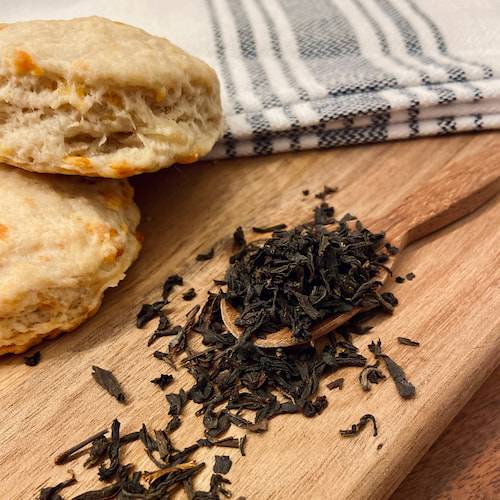 It's hard to beat a warm cheese biscuit, fresh out of the oven – but, add a little smoke flavour from a bold Lapsang Souchong, and you've got yourself a real savoury treat.
Lapsang Souchong is a very unique black tea from the Fujian Province of China that is withered over cypress or pine wood fires after plucking. After the rolling process, the tea leaves are placed into wooden barrels until they begin to emit their own pleasant aroma. Then, the tea leaves are placed in bamboo baskets and hung on racks over smoky pine fires where they dry and absorb the essence of the smoke.
Because of its bold, smoky flavour, Lapsang Souchong is definitely an acquired taste as a beverage, but it ushers in a myriad of creative possibilities in the kitchen.
To make these scrumptious smoky cheese biscuits, we simply infused the milk in our tried-and-true cheese biscuit recipe with Lapsang Souchong!
Ingredients
2 cups flour
4 tsp baking powder
1 tsp salt
½ cup shortening or butter
1 cup milk
2 tbsp Lapsang Souchong tea, loose-leaf (*to infuse milk; make ahead)
¾ cup grated cheddar cheese
Method
Heat milk in a saucepan over medium heat. Once it is close to a boil (but not boiling), add the tea leaves. Let steep over medium heat for 10-15 mins. Strain into a new dish and discard tea leaves. Allow milk to cool before using.
Preheat oven to 425 and line baking sheet with parchment paper
In a large bowl, sift together flour, baking powder and salt
Add butter or shortening and finely cut in using a pastry cutter, or two knives
Add cheese and stir to combine
Add Lapsang Souchong milk and stir with a fork to make a soft dough
Turn dough onto a lightly floured surface and knead gently 8-10 times
Roll or pat to desired thickness (biscuits will double in height when baked)
Cut with a 1 ¾ inch cookie cutter (an empty jam jar will also do the trick!)
Place biscuits on the baking sheet close together for soft-sided biscuits or about an inch apart for crusty-sided biscuits
Bake for 12-15 minutes
Makes about 20 biscuits
Order some Lapsang Souchong and enjoy these smoky cheese biscuits with a bowl of tomato or roasted red pepper soup!