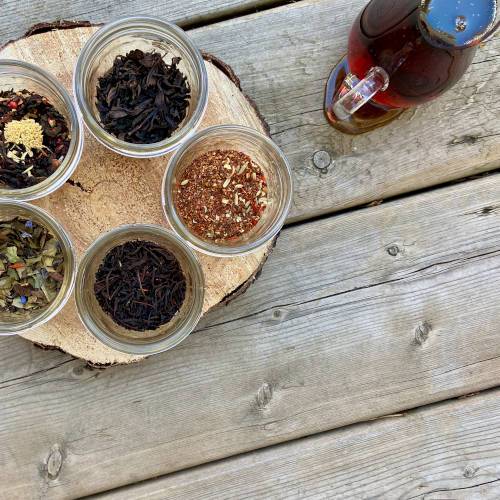 Bring the cabane à sucre to you, with maple teas!
It doesn't get any sweeter (or more Canadian) than maple season! Every year from February-April, farmers in eastern Canada extract the sugary sap from trees to produce maple syrup. According to Agriculture and Agri-Food Canada, Canada produces 85% of the world's maple syrup!
Maple trees produce sugar during the summer before storing it as starch in their root tissues in the winter. The warmer spring temperatures coax the sugar maple trees to turn their stored starch back into sugar. Farmers or sugar-makers tap the trees by drilling a hole in the trunk and attaching a spout with a bucket below to catch the sap.
A popular tradition during maple season is to visit a cabane à sucre, or sugar shack. Visitors to one of these cozy cabins in the woods will enjoy a large feast of bacon, eggs, sausages and pancakes with plenty of fresh maple syrup. Guests will also learn all about the process of making maple syrup and enjoy some maple taffy, poured right onto the snow. Sounds delicious, right?
This year a visit to a cabane à sucre may not be possible, but you can still celebrate maple season in all of its sticky sweet glory with Shanti's curated collection of maple teas! They're sweet and Canadian.
Here's to another sweet maple season!