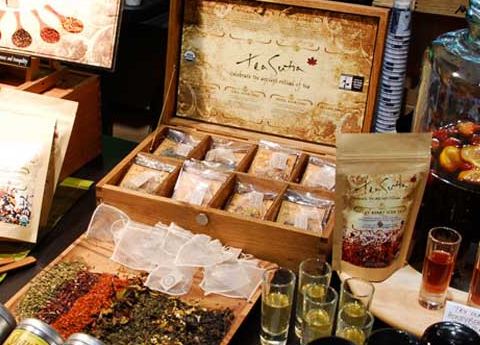 Starting and running a small business can be a daunting task. No matter how hard you work, there will always be more to do. To ensure your business is a success, you want to partner with the best possible tea distributor and tea manufacturer for supplies. How can you tell when you've found the right partner? Look at this list to see how your prospective tea distributor measures up.
1. First you'll want to be sure that the partner you choose is an experienced tea importer and tea manufacturer. You need a company that knows where to source the best teas and tea products; how to navigate customs and import regulations to ensure a steady supply of popular teas; and how to store and package tea for optimum freshness and quality. Shanti Tea has an established chain of supply you can count on to help you succeed in your new business.
2. Since your tea related business is very dependent on your wholesale tea distributor, you'll want to be sure that the company is stable, reliable and dedicated to servicing its customers better than any other distributor in the industry. Just give us a call and you'll find that our dedication to our customers, and our enthusiasm for your success is unmatched in the industry.
3. As a true partner, the distributor should have a deep understanding that their own business is only successful if your business is, and they should help you with ideas and materials to make your business shine. A good tea distributor should help you with marketing by promoting tea and tea-related products on its own website, and perhaps provide articles or other content to link to or post on your own business's site, for example.
4. Another way a wholesale tea distributor can help your small business is by sharing knowledge about what makes a business successful. Whether that's done through frequent blog posts, co-marketing programs or just a list of "tips and tricks" list, look for willingness to commit to your success as strongly as they commit to their own.
5. To be successful in a premium tea related business, you will need a way to differentiate yourself from mass-market supermarket teas. Look for a partner that can offer you custom blends or private label teas that are a higher quality that the competition. Obviously, an awareness of current consumer trends like the move to organic foods or environmental consciousness will help the tea manufacturer to craft unique products that will set you apart from your competitors.
If you are just starting a new business, have been in business for while, or are just thinking about getting into the tea industry, Shanti Tea can help! Just give us a call at 1-888-444-6942 and have a talk with us. Whether or not you choose us as your principal partner, you'll find that we will take the time to get to know what you want to achieve with your tea business, and help you get a leg up on the competition by sharing our experiences and enthusiasm with you.
We look forward to workwing with you!