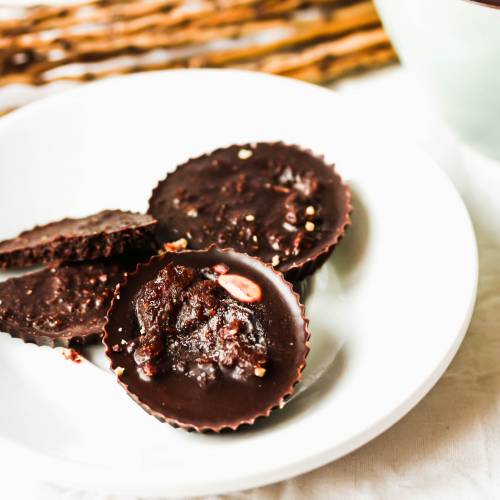 Buying chocolate is great, and it's easier than ever to find healthy options, but they can get pricey! Make your own chocolate that tastes great and is ready in 5 minutes.
Besides saving on cost, making your own healthy chocolate means you get to decide everything!
Shanti Tea sells raw organic cacao powder.
Cacao vs. Cocoa
What is the difference? You've probably wondered why some products are labeled cacao and others cocoa.
| | |
| --- | --- |
| Cacao | Cocoa |
| Cacao is raw, unprocessed (or minimally processed). | Cocoa is the processed version of cacao. |
| More antioxidants than cocoa. | High in antioxidants, but lower than cacao. |
| Excellent source of essential fatty acids, fiber, iron, copper, zinc, magnesium, calcium and sulfer. | Looses some nutritional benefits during processing. It offers many of the same nutrients, but in lower quanitiies. |
Homemade 3-Ingredient Chocolate
Making chocolate doesn't have to be a multi-day process! Our simple recipe uses only three ingredients and is ready to eat in 10 minutes or less.
The fun part is the add ins! Try experimenting with ingredients. Here are a few that we love:
Cacao nibs and sea salt
Chili flakes and sea salt
Almond slices
Mint Matcha (use a few drops of peppermint extract)
Puffed quinioa
Dried fruits, pumpkin seeds, cacao nibs
Ingredients:
¼ cup coconut oil
¼ cup cacao powder
2-3 tbsp sweetener of choice (maple syrup, agave, honey)
Directions:
Place coconut oil in a bowl, and either microwave or place the bowl in a larger bowl filled with hot water.
Once coconut oil is melted, mix in sweetener of choice and cacao powder.
Pour into your tray* and pop into the freezer. If you're adding in extra ingredients, you can add to the mixture, or add to the top before the chocolate hardens. The chocolate should be ready to enjoy within 2-5 minutes, depending on how thick each piece is.
*You can buy special candy trays, use a mini muffin tray or ice cube trays, or just pour into a deep baking sheet and break apart when ready. Whatever works for you.
Do you own a business?
Shanti Tea's organic cacao powder or cacao nibs are the perfect ingredient for your chocolate needs. It tastes great in simple recipes such as this, but also great for traditional style chocolate, hot chocolate, baked foods and even savoury dishes.