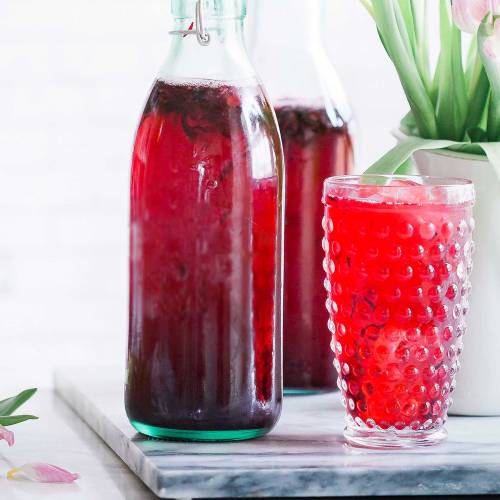 This beautiful flower is native to many tropical regions around the world.
It is a popular beverage in Central America, where it is known as rose mallow, flor de Jamaica, or sorrel. It is a type of agua fresca, and is often infused with sweetener, and some regions will add different herbs or spices, such as ginger, cloves, cinnamon and sometimes used as a cocktail by adding a bit of rum or even beer.
In Egypt, Sudan, Middle East it is known as karkadé and has been consumed for centuries as a cooling beverage. It was used in religious healing ceremonies and used by Pharaohs for its cooling properties. Today, it can be found in abundance from street vendors in these regions. It is also still used in wedding ceremonies to give toasts.
Hibiscus is naturally cooling, which makes it a perfect brew in these warmer climates. Hibiscus leaves are also consumed as food, and occasionally candied to top desserts. It is also used to give a sour, tart flavour to savoury dishes, very common in the Philippines.
The flavour of hibiscus is quite unique - tart and slightly sweet, with citrus and berry notes. Besides being known for it's tartness, the signature appearance of hibiscus is a deep, ruby-red infusion. It makes a great addition to any iced tea because of its beautiful appearance and cooling properties.
Before we get into the recipes, here are a few of the reasons you should use Hibiscus for your health!
1. Anti-inflammatory
Anti-inflammatory is a popular term lately. If you don't know why that's so important, a brief explanation is that many diseases are rooted in chronic inflammation, and anti-inflammatory foods/beverages can help relieve symptoms of those diseases. While acute inflammation is good, our body's response to pain and injury that goes away once injuries are healed, chronic inflammation has been linked to diseases such as Alzheimer's, Parkinson's, psychological disorders, some types of cancer, diabetes and cardiovascular disorders.
2. Lowers cholesterol
This is an easy one, lower cholesterol is important for heart health. The high anti-oxidant content helps to reduce cholesterol levels in the body.
3. Lowers blood pressure
Several studies have shown hibiscus to significantly reduce blood pressure, one study done by Tufts University found that regular consumption can reduce blood pressure by up to 10 points. It found that 3 glasses per day is the recommended dosage to achieve the best results.
4. Relieves menstrual pain and PMS symptoms
Hibiscus's anti-inflammatory properties work wonder on muscle cramps, including those caused by menstruation. It has been reported to help other menstrual symptoms such as mood swings, overeating and depression. In addition, hibiscus has been known to reduce bloating in all people, and works on bloating experienced by many during the menstrual cycle.
5. Depression
Speaking of depression, hibiscus is also thought to reduce stress and ease depression because of the high content of flavonoids.
6. Thirst-quenching
Hibiscus is known to satiate thirst, is naturally cooling, and helps flush toxins. This makes it a great beverage for after a workout to rehydrate, cool down and help your body to flush out more toxins.
7. Aids digestion
There are a number of ways hibiscus can aid digestion:
Diuretic, increases urination
Normalizes bowel movements
Helps to stop constipation
Reduces fatty build-up in the liver
8. Aids weight loss
Hibiscus has been seen to lower the absorption of starch and glucose. It is thought to increase metabolism. Plus, it's ability to aid digestion is also helpful for weight loss.
9. High in vitamins and minerals
Hibiscus is high in vitamin C, iron, vitamin A, and antioxidants. This is why we include it in our immune boosting Winter Warrior and the antioxidant boosting Fountain of Youth.
10. Antibacterial
Studies on hibiscus have shown antibacterial properties, fighting against parasites, worms and even one study showing efficacy in killing bacteria present in staph infections.

Now that you know all these health benefits, how can you add it to your day?
Cold brew iced tea
Ingredients:
Directions
Mix the first three ingredients in 1L of cold water and allow to infuse for at least 6 hours in the fridge.
Remove leaves and add lime juice and sweetener to taste. Serve cold over ice.

Hibiscus for your business?
Hibiscus is one of our best selling products, and for good reason. It makes a great iced tea, and also pairs well with plenty of other teas: black tea, Earl Grey, chamomile, rooibos, white tea, flavoured teas… you name it! Plus, hibiscus is a great cooking ingredient to add some tart flavour to any dish and a ruby red colour. Try our Hibiscus Sorbet as seen in our blog post on a 5-course dinner with tea as an ingredient.