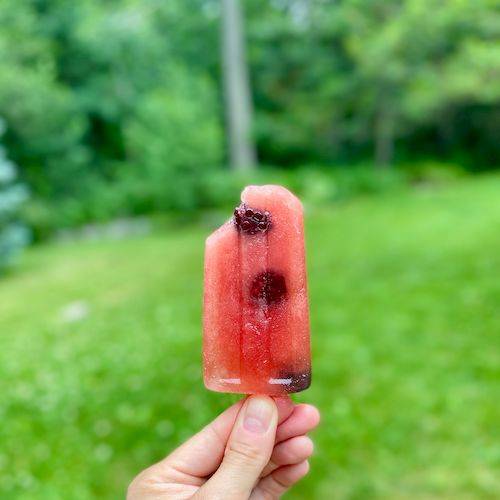 Sip into summer with these fun iced tea pops! Made with Superfruit, one of our herbal tea blends, these pops are fruity, juicy and refreshing. The kids will love them too and you can adjust the sweetness level to suit your taste.
Superfruit is a caffeine-free herbal blend with a combination of fruit pieces, beetroot, and natural, organic flavouring. It has rich berry notes, crisp and lively citrus, sweet, earthy honeybush and playful notes of tropical fruits, making it the perfect blend for an iced tea pop!
How to:
Ingredients
4 tsp Superfruit tea
1 ¾ c sugar
4 c water
1 c frozen mixed berries
Makes approximately 10 ice pops
First, bring 2 cups of water to a boil and add the sugar to create simple syrup. Stir until completely dissolved. Set aside. Next, boil 2 cups of water and steep 4 tsp of Superfruit tea for at least 5 minutes. Once your tea is steeped, pour it into a large bowl. Add 2 cups of the simple syrup mixture and set the rest aside to use for another time (you can store it in a mason jar in the fridge). Add the desired amount of frozen berries to your ice pop molds and then pour in your iced tea mixture. Let freeze for several hours and then enjoy!
This recipe can easily be adjusted for sweetness levels (simply make more iced tea and use less simple syrup- but some simple syrup is necessary if you desire the classic ice pop texture). You can also mix up the fruit add-ins, or choose different iced teas. Try Orange Creamsicle, Mango Tango or Summer Casanova!
Have you tried iced tea pops this summer? Share your recipes in the comments!