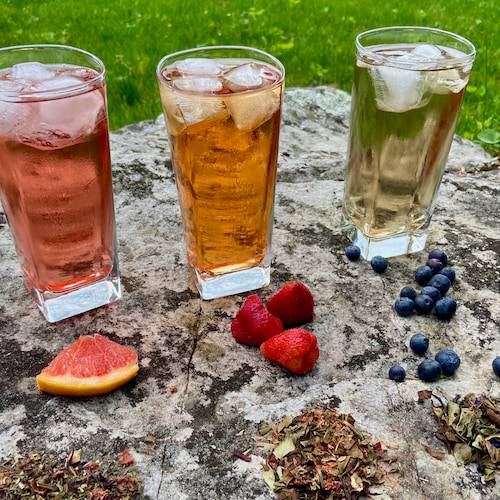 White tea is perfect for iced tea
Fruity and light. Sounds like a nice summer drink, right?
White teas are well-suited to make some of the best iced teas because they are smooth, complex and light in flavour with subtle floral and fruity notes.
Delicate, natural flavours like honey, citrus, berries and peach, pair nicely with the light sweetness and clean finish that already make white tea so refreshing.
Add ice and you've got yourself a proper thirst quencher!
Here are a few of our must-try white iced tea blends:
- Strawberry White is our most popular white tea blend, especially during the summer months. It is blended with rosehips, hibiscus and safflower. Deliciously sweet, yet a little tart, Strawberry White has an aroma that will remind you of homemade jam!
- Blueberry White, blended with cornflower and elderberry, is crisp, sweet and juicy. With its wonderful blueberry notes, this tea is summer in a glass.
- Pink Grapefruit is a pretty summer sipper! A mix of hibiscus, rosehips, orange peel and chrysanthemum with juicy citrus aromas, it's a must-have for picnics.
- Raspberry Garden is one of our spring tea blends but it is refreshingly fragrant and transitions perfectly to summer. It blends fresh berry aromas with rosemary leaves, rosehips, hibiscus and safflower.
- White Peony is your go-to for a pure, unflavoured white tea. It is a full leaf white tea which includes both the tea leaves and silver needles. Enjoy the natural fruity, floral and slightly grassy flavours of this delicate tea.
Have you tried our white teas? Let us know your favourite in the comments!