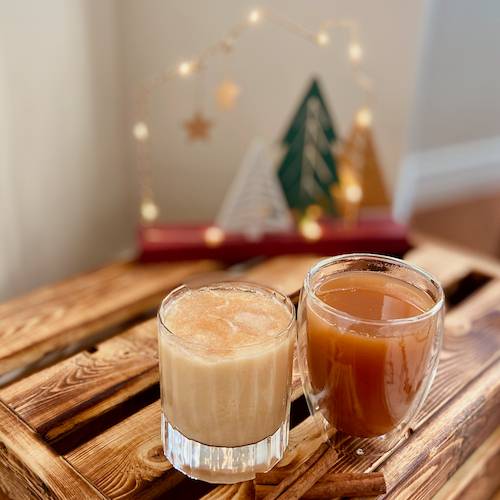 In some areas, holiday parties are making a cautious comeback, so if you find yourself hosting at the last minute, try this hack to make two quick and easy tea-infused drinks that will impress your guests.
The best part? These drinks take less than five minutes of hands-on time to prepare; the magic happens overnight, so they're convenient to make in advance. Discover how a little tea transforms these basic festive favourites into something special.
Vanilla Spice Eggnog
Eggnog is a rich and sweet dairy-based holiday beverage often enjoyed with a sprinkle of freshly grated nutmeg. The nutmeg gives the eggnog a little bit of dimension.
To take this classic holiday drink to the next level, all you need to do is infuse it with our seasonal Winter Wonderland blend. With a strong black tea base, this blend has vanilla notes and warming cinnamon, ginger and cloves. The result is a slightly less sweet and more complex eggnog with wonderful layers of depth and flavour – a little malt from the tea, creamy vanilla and lots of warm spices (an even better canvas for the rum).
Sweet n' Spicy Apple Cider
Here's another tea twist on a classic. Apple cider is a staple holiday beverage made from apple mash (similar to applesauce) that is pressed into juice. It's sweet and tangy and often served warm with a cinnamon stick. To get this drink party-ready, we infused it with our seasonal Cinnamon Chai. Sweet and spicy with black tea, cardamom, cinnamon and a hint of orange, this chai transforms the apple cider into a smoother (less tart), more well-rounded sipper, with plenty of warm, spicy layers of flavour.
How to:
In a container, add 6 grams of tea (dry tea leaves) per 8 ounces of liquid (scale up as desired; this equates to roughly 24 grams of tea for 1 litre)
Cover and store in the refrigerator for 12 hours
Strain the tea leaves out and store in the refrigerator until serving
Use within 2-3 days of making
If you prefer a more subtle flavour, use 4 grams of tea per 8 ounces of liquid.
Your guests are sure to love these tea-infused festive drinks and we hope you do too – less time in the kitchen means more time sippin'!