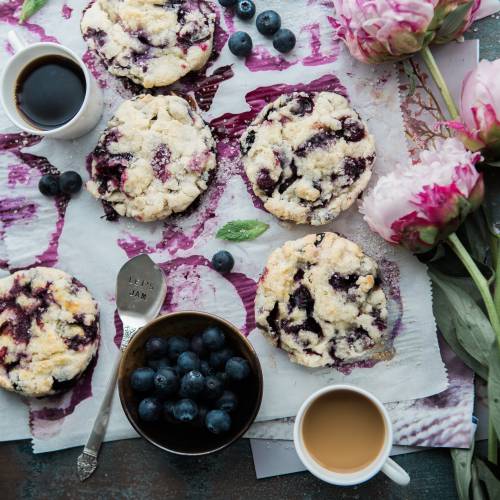 I don't know about you, but a strong cup of black tea with milk is almost guaranteed to make me think of scones. Scones are quick to make (takes about 15 minutes), and made with ingredients you likely already have in your house. Fresh baked scones are delicious served right out of the oven with a dollop of butter or heavy cream, but also great with jams or other spreads. The great thing about this recipe is you can make it sweet or savoury, and add ingredients of your choosing.
My favourite way to make these scones is exactly as the recipe dictates, but adding in a handful of raisins. When using dried fruit, it's helpful to soak it in a cup of hot water for 5 minutes or so to help soften them up before you add it to the batter.
Basic scones
Ingredients:
2 cups all purpose flour
3 tbsp sugar (or sweetener of choice)
1 ½ tsp baking powder
¼ tsp salt
1/3 cup cold butter, diced
1 cup milk
Directions:
Preheat oven to 425°F, rub a small amount of butter on a large baking sheet.
Combine flour, sugar, baking powder and salt. Use a knife to cut in the butter until it's in small pieces. Add milk and use hands to gather dough together, knead until well combined.
Optional: Add raisins, cranberries, apple pieces, cinnamon, savoury herbs and cheese, anything you want! Or leave them plain, these scones are delicious however you prepare them.
Flatten dough to approximately 2cm thickness, cut as desired (circles, wedges, rectangles, abstract shapes) approximately 6cm in width. Place onto buttered baking sheet. Bake for 15-20 minutes.
Serve these delicious scones hot with a cup of your favourite tea. We suggest Assam TGFOP for sweet scones, and Darjeeling for savoury scones.
Do you own a business?
Afternoon tea is a great way to get people in your café or restaurant midday, just after the lunch rush but before dinner, typically around 3:00pm. Many of the traditional afternoon tea treats are delicious and easy to make (not to mention inexpensive). Contact operations@shantitea.ca to learn more.