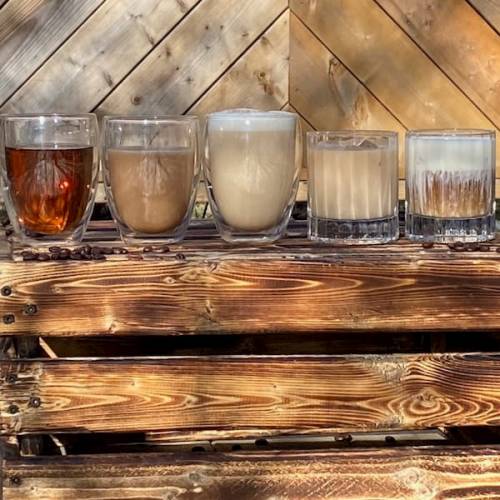 One tea, five ways
This could be the gateway tea that tempts even the most resolute coffee drinker to give up their morning cup of joe.
It's got coffee beans, black tea, a decadent caramel essence and a nostalgic aroma that might pull on your heartstrings a little as you remember the first time you paid $6 for a coffee.
Caramel Latte is a real treat (without the sugars) and now we're going to show you five ways to enjoy it – from simple to luxe!
Black – pure, nothing to see here. Just let the flavours and aromas speak for themselves. The caramel and coffee flavours are joined by malty notes and a faint chocolate aroma.
A little milk please – nothing too fancy, but a splash of milk adds a creaminess that also complements the caramel.
Getting steamy – adding steamed milk to this tea really takes the experience to a whole new level. The milk is velvety and it matches the decadence of the coffee and caramel flavours. If you want to maintain a strong flavour in your tea latte, prepare a more concentrated infusion with more tea and less water. Then, fill your mug up halfway with steeped tea and top it off with milk. Sprinkle a little cinnamon on the froth and this really feels indulgent.
Ice, ice baby – brew a batch of tea and let it cool, then pour over ice, with a splash of milk and enjoy this flavourful iced tea latte. Again, tweak the concentration of your brewed tea according to your preferences.
Head in the clouds – top your iced tea with cold froth, which is milk or cream that is frothed without steam (so it's foamy but cold). You can use a handheld milk frother to achieve this and the result is creamy milk clouds that float on top of the ice, while some drip down, adding extra sweetness to the coffee flavours and really playing up the caramel/toffee vibe of this unique tea blend.
For something extra special, try the tea lattes with a shot of espresso or a shot of whiskey or rum!
Here are a few other flavoured black teas you could turn into fancy treats, without the sugar: